The early days of the internet were a simpler time. When the 2000s rolled around, all you needed to rank on a search engine was a highly targeted, keyword-dense microsite. Page 1? Position 1? You'd get there before you knew it.
Today, the web looks very different. This is, in large part, due to the ever-evolving algorithms that drive search engine optimization (SEO). Google's "crawlers" become more and more sophisticated (read: pickier) with every update. And as millions of new websites pop up each year, it takes more planning than ever to boost your website's visibility.
A smart, strategic solution is to build up an SEO content hub.
What is an SEO content hub, exactly?
Content isn't insular—it exists within an ecosystem. Together, your content represents your brand and positions you as a thought leader. (Really, it can accomplish any number of marketing and branding goals.)
An SEO content hub is that ecosystem. It's the aggregate of your SEO and content efforts—the destination where your site's visitors can find what they're looking for, all organized by highly specific, targeted topics. Content hubs help to both boost awareness of your company and educate your visitors.
Creating an SEO content hub from scratch may seem daunting. But, as we'll see, there are many ways to go about building a solid, results-driven content hub. And with persistence, these efforts could really pay off. In fact, HubSpot found that marketers who prioritize marketing efforts are 13 times more likely to see positive ROI. Putting in the effort (and doing it right) could mean reaping seriously attractive rewards.
What's in an SEO content hub?
As with many things in life, there's no "right" answer as to what type of content should live in your content hub. Of course, the topic of your articles is up to you.
That said, your SEO content hub's structure should feature these key elements.
Pillar pages
Pillar pages, also known as pillar posts, serve as the basis on which all your cluster content is built.
Let's say, for instance, that you run a bakery. You may decide to start with one pillar post: "Everything you need to know to start baking like a pro." This blog will include a rundown of all the basic skills and tools your readers will need to start getting into baking. Your cluster content will direct readers back to this pillar post via hyperlinking (known as "backlinking").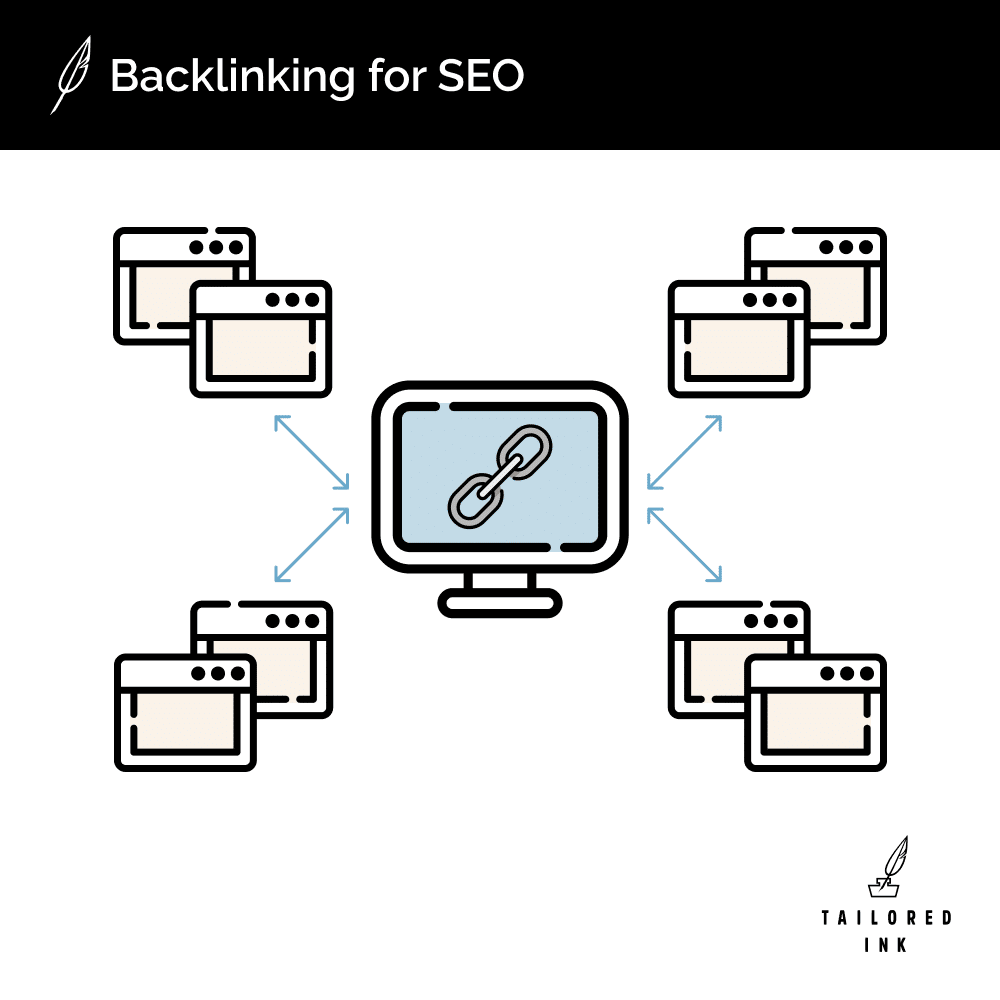 Cluster content
In short, cluster content provides in-depth insights into specific topics. While your pillar posts provide broad information on a larger topic, cluster content targets and speaks to specific keywords that fall within that topic. Your bakery could cook up an endless amount of blogs to link back to your pillar post, from "baking the perfect pie" to "the baker's guide to at-home bread-making."
According to HubSpot research, 64% of search terms include four or more words. Your cluster content will target these highly specific search terms. After all, your readers probably aren't just searching for "baking tips"—they're searching for the "best red velvet cake recipe" or wondering, "Can you use oat milk instead of regular milk when baking muffins?".
What does an SEO content hub look like? (With examples)
You have the right keywords. You've identified the best topics for your pillar pages and cluster content. The next step is to decide what your SEO content hub will actually look like.
There are several different formats your content hub might take. Here, we'll focus on two of the most popular: the hub-and-spoke content hub and the topic index content hub. We won't go into the actual design of your content hub here—instead, we'll focus on how individual pieces of content relate to your pillar posts.
Hub-and-spoke SEO content hubs
As its name suggests, the hub-and-spoke content hub takes the form of a hub (pillar post) and spokes (cluster content). Perhaps the quintessential layout for a content hub, this format is used across the web to structure solid, well-connected content hubs.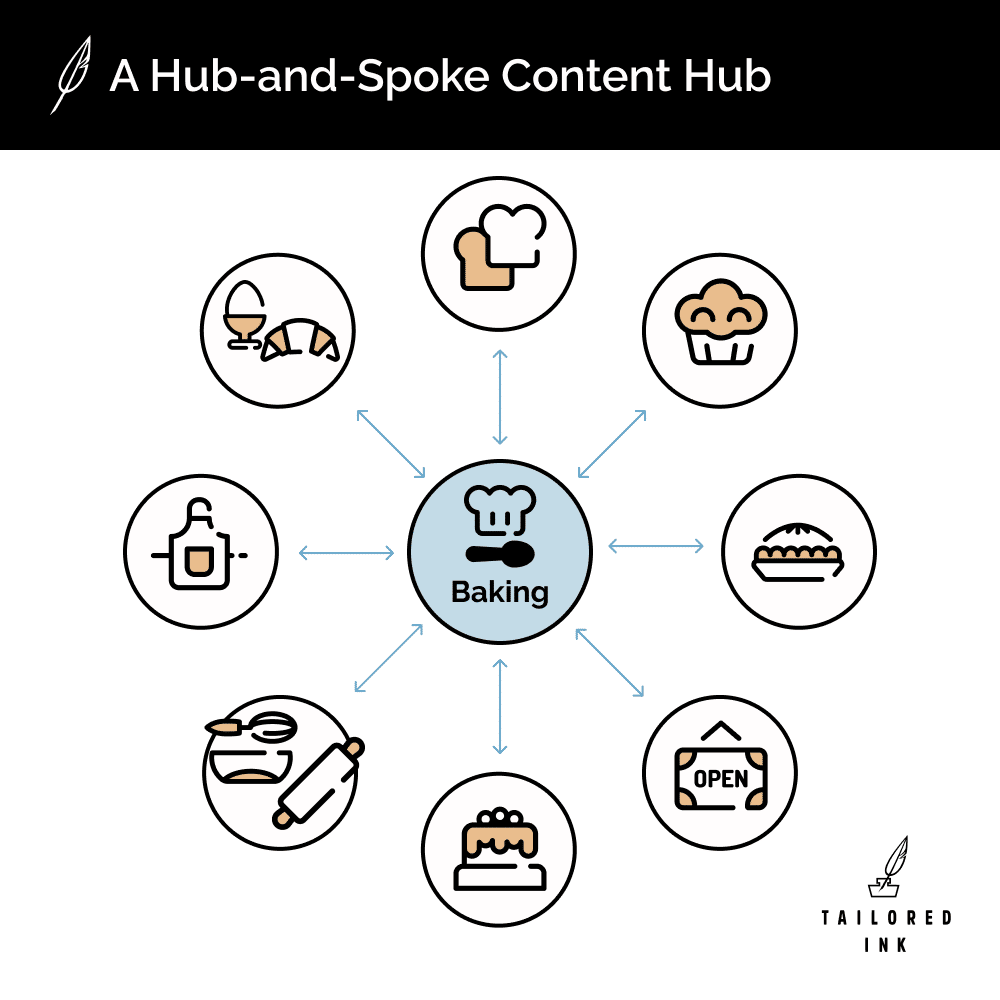 At the top (or center) of this content hub is the pillar post ("Everything you need to know to start baking like a pro"). Multiple pieces of niche content branch off from this post (bread, cakes, pies, etc.), each connected back to the pillar post via hyperlinks.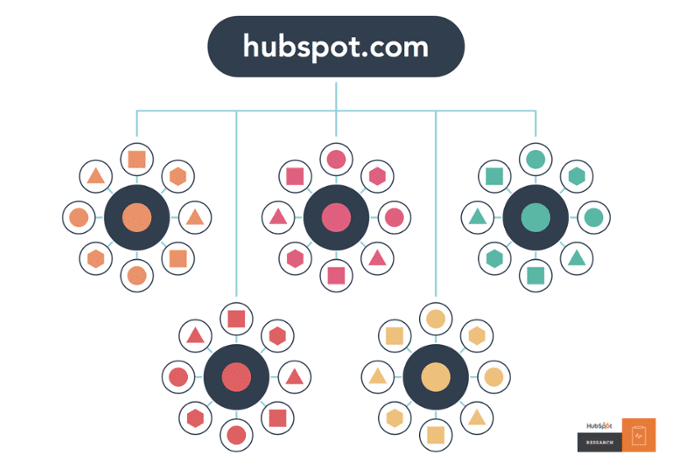 As you can see in HubSpot's example, their main page contains several pillar posts. Each piece of cluster content hyperlinks back to the respective pillar post, drawing all visitors deeper into this information hotspot.
Topic index SEO content hub
The topic index (or topic matrix) content hub relies on a pillar page that hyperlinks to subpages with more detailed information. Mayo Clinic's Diseases and Conditions hub provides an excellent example of a large-scale topic index hub.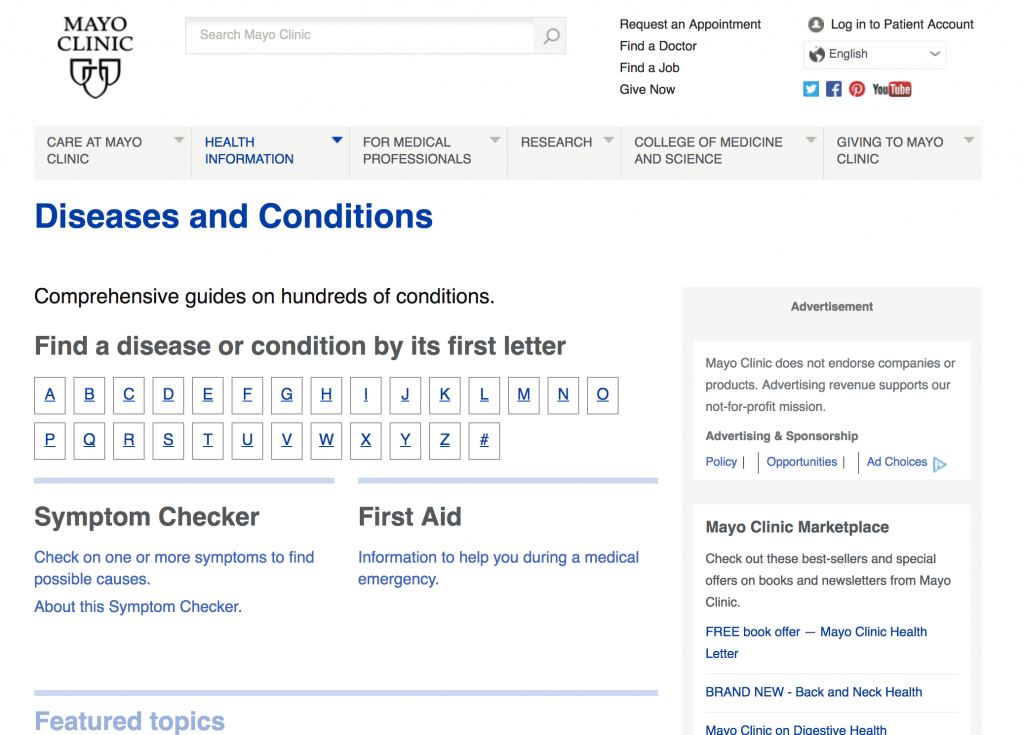 Here's how it looks. Note that each primary condition page is just one of the hundreds listed on the main Diseases and Conditions page:
As you can see, Mayo Clinic has done a fantastic job of structurally organizing its content. Aside from showing up in the #1 spot in search results for most health conditions, many of these pages also link to Mayo Clinic's services. They are effectively using educational content to up their domain authority and drive readers (potential patients) to the services they offer.
SEO content hubs work
It's no coincidence that some of the most successful sites out there rely on SEO content hubs to boost their credibility, visibility, and sales. However, creating a content hub that works hard for your brand isn't a one-person job. And there's a lot more to learn.
Without the right team and know-how, you run the risk of throwing away your time, money, and efforts. After all, SEO content hubs aren't just amalgamations of random information—they're carefully structured and curated with a purpose.
If you want to learn more about SEO content hubs or get expert insights on your content strategy, we're here to help.