We're going to attempt to cram everything we know about SEO content hubs into a single post. Aggressive? Sure. But content hubs are the single most effective SEO strategy out there today. That's why we made this guide.
So here goes.
Let's start with the definition of an "SEO content hub." Content hubs are information centers that feature dozens, if not hundreds, of pieces of content for your target audience, with lots of SEO goodness baked in. They require a lot of time and effort (and money) to produce.
It's no surprise—content hubs are incredibly easy to get wrong. While there are many ways to build a content hub, there is no silver bullet to make yours a hit.
But there are ways to set yourself up for success.
"How do I create a content hub that makes people want to keep watching and reading?" It's a good question—especially given the saturation of popular (but mid- to low-quality) content out there today.
To answer that question, we've compiled a list of keywords, explanations, and more questions geared towards making your content hub stand out above the crowd.
What is an SEO content hub?
An SEO content hub is a cluster of thematically or conceptually linked content. It serves as an educational resource center that establishes a brand as an authority on a particular subject that may be of urgent interest to its intended target audience.
In short, it's a lot of content about similar stuff.
At the same time, SEO content hubs are carefully orchestrated digital ecosystems that give search engine "crawlers" the right signals to rank certain pieces of content highly. This ecosystem works together to help a domain climb the rankings in search engines results pages (SERPs).
Google, Safari, Bing, and all other search engines look for well-organized, well-written content, archiving it away keyword by keyword. If you know how these crawlers index and sort through billions of web pages, you have a decent shot at showing up on Page 1 in Google search results one day.
That's the beauty of an SEO content hub. It's the single-best way to organically boost SEO and become a digital source of truth on a particular subject.
When done right, it's priceless.
What's in an SEO content hub?
The short answer is: whatever you want. There's no "right" choice for the topics or types of content you should include in your content hub. However, no matter what your content is about, there are two main structural elements that you should keep in mind: pillar pages and cluster content.
What are pillar pages?
Pillar pages, or pillar posts, serve as the foundation upon which a content cluster is built. These long, big-picture posts act as a hierarchical SEO hub that links readers to shorter, related posts.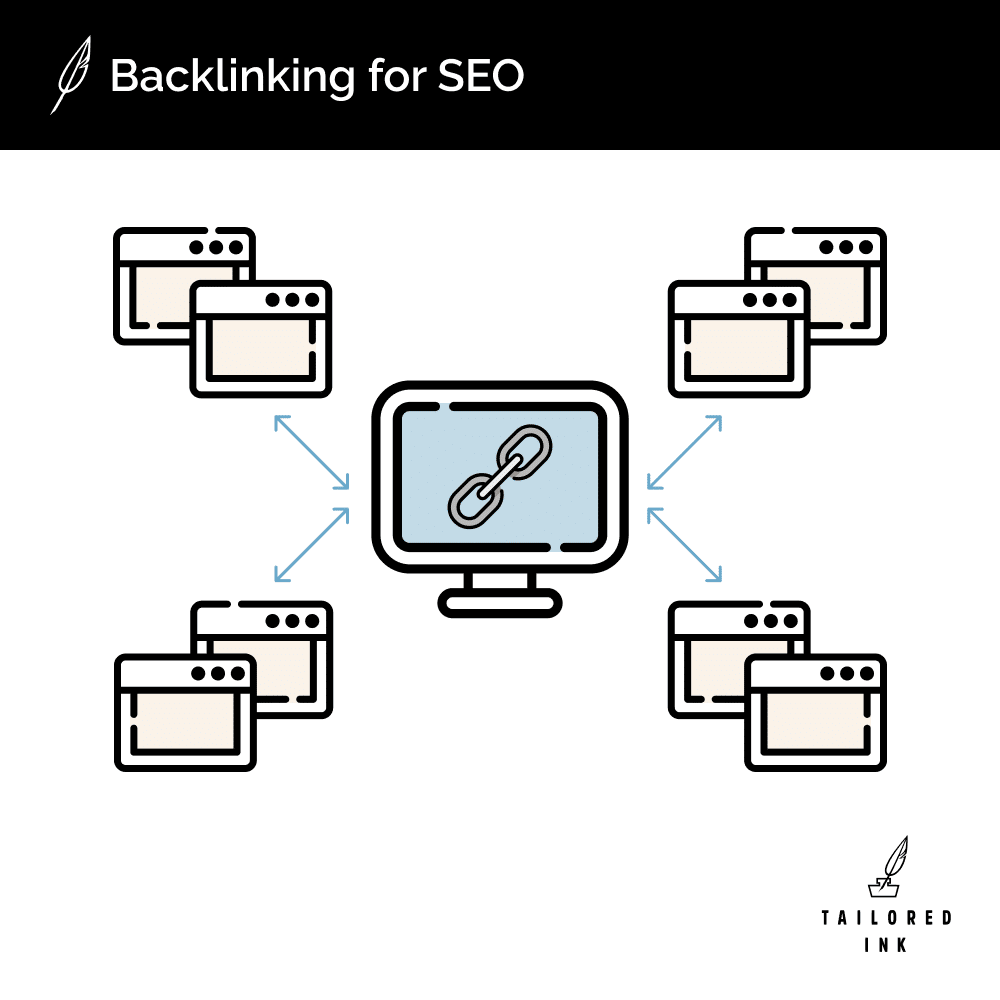 Search engines like Google automatically detect and "read" the relationship between pillar posts and supporting posts. By following SEO organization best practices, pillar posts boost keyword authority and, as a result, your domain's overall ranking in SERPs.
Each supporting post should link back to the pillar post. Because these backlinks are weighted so favorably by Google's ranking algorithms, connecting the pillar post to each supporting post (and vice-versa) via hyperlinks is an easy and effective "white-hat" SEO strategy.
What is cluster content?
Where pillar posts offer readers more generalized information on broader topics, cluster content provides in-depth insights into a specific subject or topic. These posts also feature longer, often niche keywords that may be easier to rank for than shorter and more competitive keywords.
These types of "long-tail keywords" are important because, as HubSpot research points out, 64% of search terms include four or more words. Done right, your cluster content will help you target these precise search terms to draw traffic to your content hub and website.
Consider this example. You run a bakery and want to put together a content hub for all things baking. Your pillar post might be an introduction to the art of baking, like, "Everything You Need to Know to Start Baking Like a Pro." Your pillar post might include a list of must-have ingredients, baking equipment, skills to practice, and so on…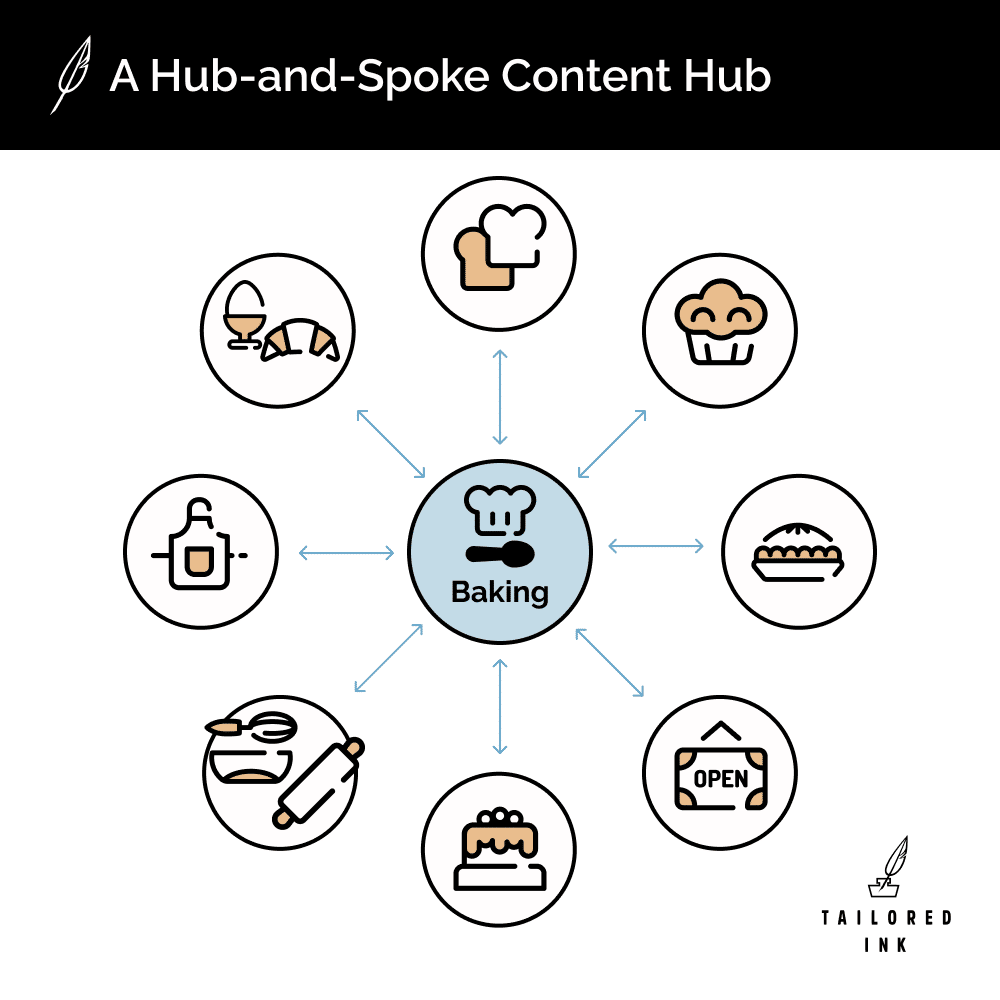 Your content clusters, meanwhile, would explore a wide range of more specific baking topics, like "5 Steps to Baking The Perfect Apple Pie," "How to Make Vegan Lemon Poppyseed Muffins," or "The Baker's Guide to Home Bread-making." Each supporting post would link back to your pillar post via backlinks.
What does an SEO content hub look like?
So, you've got the basics down. You've identified the right keywords and determined the best topics for your pillar pages and cluster content. Now, it's time to decide what your SEO content hub will look like.
There are several different formats you can choose from. Here are two examples of popular content hub structures: "hub-and-spoke" content hub and the "topic index" content hub.
What's a hub-and-spoke SEO content hub?
As its name suggests, this type of content hub layout takes the form of a wheel with a hub and spokes. The central "hub" is your pillar post, while the surrounding spokes represent your cluster content. This format is widely used to structure solid, well-connected content hubs because it's simple and easy to use, with each niche topic branching out from the broader main post.
What's a topic index SEO content hub?
The topic index or topic matrix content hub relies on a pillar page with hyperlinks to sub-pages for more detailed information.
You can see this format used on websites like Mayo Clinic, which uses a topic index content hub to structurally organize its contents from its pillar pages down to a variety of more in-depth sub-pages and even other content hubs. Each health condition on the Mayo Clinic's site has its own overview page, which then includes sub-pages on symptoms and diagnosis and treatment.
Do SEO content hubs work?
Absolutely. SEO content hubs are used religiously by Fortune 500s and venture-funded startups to boost their credibility, visibility, and sales.
But while they offer serious upside potential, keep in mind that SEO content hubs are not easy jobs that can be managed by a marketing intern (no offense to the marketing interns out there). They require the right team and the right know-how. Otherwise, you risk throwing away time, money, and effort on a poorly structured mass of content that doesn't help your brand.
Now that we've explored the basics of what goes into a thriving SEO content hub, let's take a deeper dive into what makes the best content hubs tick.
Identifying the right keywords
Choosing the right keywords is just as important as (if not more so than) determining your SEO content hub's topics or format. Keywords are everything. After all, you can write all the content in the world, but if no one's searching it, no one will ever read it.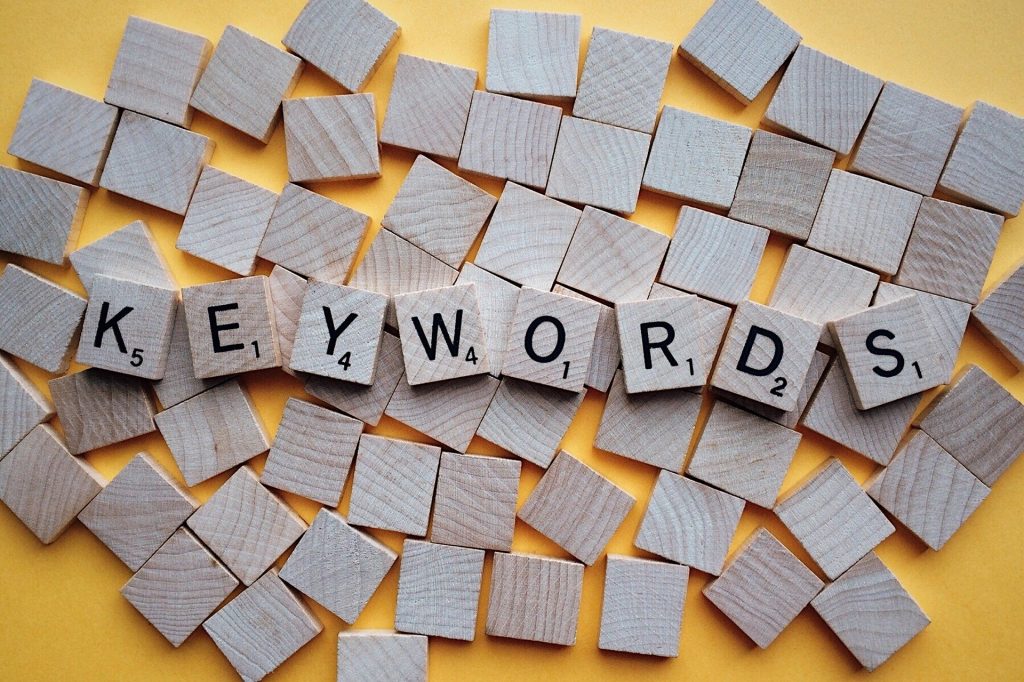 So, yes, choosing the right keywords for your content hub is the most important thing you will do with your content hub. That means considerable research, planning, and objective decision-making regarding recent data.
But that's just the beginning.
When we talk about picking the "right" keywords, we mean the ones you ultimately decide are right for your business. These can vary greatly, sometimes with more than one solid answer or no answers at all.
That's where thorough research and having the right tools in your arsenal can be a big help.
Popular keyword planning tools
Like all marketing solutions, you've got options when it comes to the SEO research and planning tools for your content hub keywords. Here are some of the most popular platforms in the market today.
SEMrush
This SEO research tool has been around since August 2008, has raised $40 million in venture funding, and went public in March 2021 under a $1.9 billion SEMR ticket. SEMrush features a tremendous breadth and depth of SEO and SEM insight compared to its competition. It also offers a generous free subscription that includes ten free searches per day, the use of its intuitive Keyword Magic tool, the ability to track ten keywords in the Position Tracking tool, and more.
Ahrefs
Ahrefs offers many of the same benefits as SEMrush. Formed in July 2010, this private Singapore-based SEO and SEM research platform is the tool of choice for backlink analysis and multi-channel research. It also aggregates data from ten of the top search engines worldwide, including Google Bing.
With Ahrefs growing popularity comes one downside. The platform no longer offers a free subscription outside of a seven-day free trial. Most features require payment for access.
Google Keyword Planner/Trends
Google now also offers its own suite of tools to aid in SEO and SEM planning. Google Ads has a Keyword Planner that allows advertisers to identify the best keywords to use in their paid campaigns. Google Trends is an easy-to-use keyword planning tool that gives marketers the ability to quickly and effectively analyze competing keywords.
Both tools are offered free of charge and can be helpful complements to more sophisticated programs like SEMrush or Ahrefs.

The 4 steps to finding the right keywords
Once you've identified the right tools, you can break your keyword planning and research down into four steps:
Goal setting
Competitive research
Identifying keywords
Shortlisting your keywords
1. Goal setting: Set realistic, achievable goals
Before you plan out an SEO content hub, figure out your budget. How ambitious or restrained can you be with your keywords and content campaign? On a shoestring budget, you may have fewer options with your keywords.
It's also essential to consider your goals one year (or even five years) down the line. Looking at what similar-sized agencies are doing can give you a sense of how quickly or slowly they scaled from inception to date, giving you a better idea of what to expect for your brand.
2. Competitive research: Find out what the competition is doing
Another critical aspect in identifying the right keywords is keeping an eye on your closest competitors. This depends on your brand's particular situation—while you might have loft aspirations for your company, a smaller agency can't expect to handle the same workload as more prominent brands like HubSpot and Content Marketing Institute do.
Instead, take on what you can manage. This could be 2-3 blog posts per week (about 8-12 per month) for smaller blogs, while larger ones should shoot for 4-5 per week, or 16-20 posts a month.
This will help you sustain and grow organic traffic and help build your company.
3. Identify the right keywords: What will give you the most bang for your buck?
Identifying the right keywords sounds simple on paper—high volume and low difficulty keywords are best. While there are some unicorn keyword opportunities out there, more often than not, you're going to have to make some tough choices.
Would you rather focus on locking easy to rank for keywords with low volume, or are you going after a hallowed keyword that's going to require a significant content output?
The best thing to do is build up a list of all the possible contenders…and then have a think.
4. Shortlisting your keywords: What's the priority?
Chances are, you'll have three categories of keywords to start.
Unicorns: High volume, low difficulty
Low-hanging fruit: Mid-low volume, low difficulty
Challenges: High volume, high-mid difficulty
It comes down to a value judgment: Determine what matters most. Don't rush—take things slow and ask the right questions before you get to writing.
Here to help are five questions you should ask yourself when writing a content hub. They'll help you figure out what content you should include—and determine what isn't worth your time.
What to ask yourself before creating your content
These five questions are really asking a bigger, simpler question: "Is this content worth creating?" If you can honestly answer all five of them, the path forward will be clear.
"Has this been done before?"
It's not easy to be unique.
In the age of modern technology, with millions of search results available at our fingertips, oversaturation is a genuine problem online. Simple questions like, "why am I getting nosebleeds?" garner thousands of results from health sites on Google alone. If you're a small tissue company starting a content hub, focusing on nosebleeds is likely a recipe for disaster. You simply don't have the bandwidth to get something to rank.
Instead, consider alternative tissue-related topics that haven't been as covered, like "how to create art projects using tissues." While it doesn't have quite as much exposure, this is a unique and low-difficulty long-tail keyword with potentially high search and share rates.
"Is anyone actually going to read this?"
As proud as you may be of your blog, your brand, and your content hub, it's essential to keep in mind the 600 million blogs out in the world. Whatever content you put out there is going to face plenty of competition from all angles.
Ask yourself this: is there a real need for my content? Will it actually help people? Do I have a unique perspective or insights that can't be found anywhere else?
If you can safely answer "yes" to all these questions, that's a good sign. If not, your content hub might not be a winner.
"Is my content evergreen?"
Evergreen content is just that: evergreen. Be it five years down the line or ten, evergreen content is the secret sauce to writing a content hub. You want content that will stay relevant, rather than advice that might be timely but ultimately doesn't last.
Consider focusing on tried-and-true lessons, like "Why you shouldn't invest your entire life savings into Bitcoin" or "Tips to keeping a healthy, diversified portfolio" to boost your content hub's evergreen chances.
"Are my tone and voice right for this content hub?"
The most successful content hubs know how to deliver content eloquently and efficiently because they use the right voice for the job. You want to educate your readers while also using emotional intelligence to convey your ideas effectively.
Writing a content hub that deals with baking requires a different voice than one handling fashion or a content hub about health concerns. It's important to approach your topic and your audience in a way that reflects your content. For costume design, this might be enthusiastic, conversational, and friendly. For health, it's best to be informative and empathetic with softer, calming language choices.
When reviewing your piece before publication, always ask yourself: was my voice on point for this piece?
"Is my content the right length?"
It's been established that longer posts get more traffic. In fact, posts around the 2,000-word mark see the most traffic due to their greater inclusion of keywords, information, and greater shareability, among other things.
That said, don't make your posts long just for the sake of it. Brevity is the soul of good content, especially given that 79% of people scan web content rather than deep diving into it.
Focus on getting your point across. Be informative and helpful. So long as your post gets to the point and isn't filled with fluff, people will spend more time on your page.
Building a smart content marketing calendar
So far, we've covered the basics of SEO content hubs, the importance of finding the right keywords, and how to make sure you're covering all your bases as you write.
But there's still one last piece to a complete content hub strategy: the content marketing calendar.
What is a content marketing calendar, and how can it help your SEO content hub? Consider it like the blueprints of a building. Content marketing calendars establish a framework for your content hub, helping you understand which pieces of content come next and why they come next.
When creating a content marketing calendar, it can be easy to overlook some necessary components, even if you've made one before. It's essential to consider both the analytical and the pragmatic elements of the calendar before creating and implementing it.
Building an analytical content marketing calendar
It's not just about writing dynamite content. You need to think analytically. That means tracking and monitoring your content calendar in a meticulous way.
The core inputs are always the same. These include:
Blog title (60 characters or less)
Published date (to track timing and frequency)
Word count (don't forget, 1,500 to 2,000-word blog posts get better SEO traction)
Published URL (for reference)
Category (to keep your blogs organized and for SEO purposes)
Keyword (both primary and secondary)
CTA (where's your blog going)
Pillar page link (add the link structure to keep things clear)
Writer (who's putting the words on the page)
It's also imperative that you set up tracking and analytics to ensure your content marketing calendar is actionable and adaptable.
SEMrush offers some excellent keyword tracking tools. You can plug in all your primary and secondary keywords from your core inputs and see where you rank for each overtime.
Google Analytics, meanwhile, is a reliable way to track where your customers are coming from. If they're real and come from a variety of credible sources, your content hub will soar.
Building a pragmatic content marketing calendar
Content calendars aren't just great for organization—they're also important for helping teams reach their highest potential.
First and foremost, it's essential to create alignments between "Team Marketing" and "Team Sales." Misalignments will inevitably lead to inefficiencies and mistakes that cost time, money, and resources. Successfully join the two, and you can see a noticeable jump in efficiency (like closing 67% more deals).
So, how do you get these teams on the same page? It starts with making sure both teams are aligned on content production.
Creating a comprehensive content marketing calendar can help you layout your vision and assign responsibilities, helping you build an effective work funnel that gets things done. According to The Content Marketing Institute, over 50 percent of organizations with a lucid content marketing calendar strategy were successful, whereas only 12 percent of those without an established strategy made any headway.
That comes down to teamwork. You need to assemble the content marketing A-Team:
Writers
Editors
Content Strategists
SEO wizards
Graphic Designers
Projects Managers
That's how you make a worthy SEO content hub. Creating a good content marketing calendar is no different.
So…where do I go from here?
There you have it. This is how you make an SEO content hub. Yes, it's a lot—but it's worth it if you do it right.
If you're looking to create a content hub for your company and you need some help, you came to the right place. We've Fortune 500s and venture-funded startups craft SEO content hubs that have helped them gain meaningful leads, make valuable conversions, and even get acquired by larger companies.
If you need help with content strategy, content creation, SEO, or anything else for your content hub, let us know. We're just an email away.
Let's make you a winning content hub.